We increase your sales – this is how:
We build great websites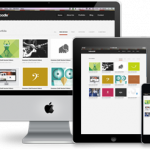 Working with you we help to transfer your company brand onto the web in an effective way, advising you at every stage, to deliver an effective on-line presence so you can increase your sales. Whether this is an e-commerce website with a seamless customer journey, or an information site leading people to contact you, we understand how people use the web, and this is evident in every website we build.
Our websites are "responsive", which means you maintain one website, but it looks great on a desktop screen, or a small phone, and everything in between. This saves you time and money developing and maintaining multiple websites, meaning you can concentrate on what you're good at, running your business.
We write apps
If you need an app (and lots of people don't, they just think they do, ask us), then we also have experience in building apps for iPhone, Android, Blackberry and Windows phone. Your app could be an integrated extension of your website, or it could be a standalone product to sell or to market your business. Either way, we can help.
We optimise your website
It's all very well having a website, but it's not like a shop, people don't just walk past it and pop in. You need to market your website and that's where Search Engine Optimisation comes in. We're good at this, we help you to optimise your on-page content for the phrases you want to target, so that when people go looking for a site like yours, it's you they find, and not your competitors. After all, you found us!
We support you every step of the way
We are proud of our reputation for not being geeks, but understanding businesses and developing practical solutions to real business issues. We know that an extra sale is more important than beautiful code, and that a real person at the end of the phone is more helpful than elaborate documentation. That's why we consider that your website is never finished, we're with you as you build your business and will always be o the look-out for ways you can improve what you do on-line, while being at the end of the phone or an e-mail to help with that update you've forgotten how to do. Just think of us as an extra member of your team.